october 2019
October is a really fun time in the Butterfly Garden for the children! On October 15th we had ALL the fourth grade classes out to the garden to place pumpkins, plant vegetables and annuals, and to spread mulch. They had a great time with club member volunteers guiding them along the way and answering questions. Butterflies were happy that Thursday morning as the sun was shining brightly and we did capture a photo of at least one.
Enjoy the pictures!
Carolyn's October 10th Report:
What a great morning in the garden!!!! We had Rhonda join us and she was having a terrific time clearing space for the students to plant. She exclaimed,"Here's another cute little pumpkin! This is like Easter!"
Scroll down--Debi took some pictures as our garden is absolutely beautiful. This is a pink rose brought to the garden last fall by Suzanne Longley. It is just covered in blossoms. We musta done somethin' right!!! We thought we should send y'all a picture before Debbie U. sees it. Y'all all know how she loves pink and her reputation for snipping things she likes or needs for her creations.
Has nobody told us that spring has sprung! We also have a bluebonnet blooming. Yes, Rhonda, it must be Easter!
Enjoy the pictures…
august 2019
Twila Tate reported: Breakfast with the fourth grade teachers this morning. (August 13th) Weekly Weeders provided a great meal and lots of plans.
Carolyn Sander's August 1st Butterfly Garden Report:
O.K. Just four adventuresome souls were brave enough to venture out into the early morning sunshine in the Butterfly Garden—Debi, Twila, Debbie, and me..Carolyn. Most had to leave around 9:30, not because the heat was overwhelming, but they also have obligations and commitments with their families and homes. I stayed until 10 watering and got soaking wet because the sprinkling system was going and I was still puttering. Not that it mattered, but I did not enter the wet tee shirt contest. While driving home, I felt like a baby that needed a new diaper!

Debi went on to visit in the school office making plans with administration and staff for the upcoming school year. We would like more club participation and here's what we need from each of you. We KNOW you all are creative gals. Maybe digging in the dirt to plant a small flower, mulching, gathering and throwing out seeds are not your things. We are asking you for your input on some idea that you would like to come to the Butterfly Garden when we are scheduled to work with students and lead a station of something you think is important to 4th grade students in 2019/2020 and related to plants, gardens, pollinators, recycling, etc. We are waiting to hear from each of you so we can plug your ideas into our plans. We know you'll have some doozies!!

Until then—stay cool and kool!

July 2019
June 2019
Carolyn's June 27th Butterfly Garden Report:
Yes, we had an adventurous team in the Butterfly Garden this morning. It was wet after yesterday's deluge, but we did not have to "mud hog" to get something done. Even the Birthday Girl, Twila, arrived bright and early on her very special day. She was the first one there!! Happy Birthday again, Twila! (I think I told you 3 times!!!) Charlotte and Debbie were also there and Jeri came along with a selection of plants as a donation from her source in Chappell Hill. With persistence and dedication, the garden is looking good!

Kudos to each of you who donated a pumpkin or gourd last fall for the students to place in the garden. Thank you, All! Since that day, the fruits have degenerated and spilled their seeds onto the floor of the garden. With all the rain we have had and the brilliant sunshine and heat, they have sprouted and have grown into these beautiful, healthy green vines meandering their way like a lazy river through our garden. We even had two surprises this morning as we have a precious small green gourd (we thought of you, Merlene) and a tiny pumpkin. We were so excited!!!! BUT for some of us, that doesn't take much. (Not a test but hope you remember from my horticulture presentation that cucumbers, melons, pumpkins, gourds all belong to the cucurbit family—rind on the outside, squishy middle with flat seeds)
Carolyn Sander's June 20th Butterfly Garden Report:
Arriving at the BF Garden this morning, I was met with a flurry of activity. There was the snip, snip, snip coming from the gazebo area of the garden where John Striegler was trimming the wisteria and Twila was over doing the cedar arbor trying to rescue the passion vine. Betsy took on the job of ridding the Mexican plum tree area of the stringy grass that seems to haunt us every season while Debi M. was digging holes to put in the new butterfly-friendly plants we bought yesterday. Well, I tried to look as busy as the other workers, but was soon interrupted by this wisp of glamour gliding down the path!!! It was our very own Debbie U. dressed like she was going to a reunion of long lost classmates—maybe even boyfriends!!!! 8-(I kinda looked like it was my turn at the recycle station! :º) The group continued to work and trickled away as their time was spent and other obligations were calling. It was a beautiful, cool morning in the garden, AND things are looking up!!
may 2019
Spring is always fun in the garden! These are just a few of the students who were enjoying the garden this May day. (Students faces blacked for privacy.)
march 2019
TWILA'S REPORT:
Carolyn and Charles Sander spent three hours on Saturday, March 9, working at weeding and clearing winter debris in the Butterfly Garden! Thanks to these angels! I checked out the garden, and after a long wet winter, it needs lots of work. We have received donations in lieu of work, but we can't seem to find people to work! Suzanne Longley plans to bring a crew out at some time. On Friday, March 22, instead of Thursday, March 21, the students will be in the garden.
Natalie James, Brenham I.S.D. Outdoor Learning Specialist, has asked to conduct lessons in the Butterfly Garden for classes on March 22, and April 5. We have also been asked to host a station at this year's STEAM Night (Science, Technology, Engineering, Arts, & Math) Night. That event is on April 25 from 5:00 – 7:00.
Urquhart, Barkman, Cummins are assigned to work in the garden in March. Sander, Hermann, Pinto, and Batt are assigned to work in April.
At the District Convention, we received a 1st place on a Pollinators Award, and Awards for Youth Garden Club Sponsor and Youth Horticulture Education. In addition we were awarded sponsorship award for six students with Smokey Bear Poster contest and seven for Woodsey Owl Poster Contest.
FEBRUARY 2019
TWILA'S REPORT:
On February 22, we had our second session with Brenham Elementary Gardeners for the month. Betsy Spiller, Ann Lehmann, Joy Kenjura, Carolyn Sander and former member, Jeri Baehren and I helped the students plant seeds in peat seed starters that will be planted in the Butterfly Garden as they sprout. Carolyn brought some weeds for the students to see, feel, and talk about. Earlier in the month, Joy Goedeke presented a book, The Frightened Frog, to the library, and Principal Jennifer Vest read it to the students. THANK YOU, THANK YOU TO ALL OF YOU! Suzanne Longley had a crew trim trees in the garden. She has also agreed to bring a crew to do some spring maintenance. THANK YOU, SUZANNE!
january 2019
In Twila's absence, Rhonda Ehlert organized our annual Reduce, Reuse, Recycle program for our youth gardeners. This was a perfect indoor activity for a damp and chilly day. Assisting Rhonda were Sandy Batt and Debi Meschwitz and a good time was had by all as we helped six classes of fourth graders at Brenham Elementary make braided bracelets or key chains from plastic bags. What a great way to recycle and learn a new skill!
Twila Tate, Chairman of Youth Gardening, reported a wonderful morning of creativity with our Junior Garden Club. They painted rocks to leave at the Butterfly Garden assisted by Debi Meschwitz, Linda Blum, Charlotte LaRoche, Joy Goedeke, Joy Kenjura, Peggy Martin, Poo Michalak, and Betsy Spiller. Thank you ALL for your dedication to this program.
october 2018
March - June 2018
There is always so much going on in the Butterfly Garden during the Spring months and the children love to be out enjoying the beautiful weather and discovering the plants that are beginning to bud and also waiting for the first butterflies to arrive. It was decided that a slideshow of our activities would be the best way to show you what we do with the children…many activities which include planting, mulching, painting rocks and having scavenger hunts. It's hard to guess what their favorite is but it could be the Blue Bell ice cream party at the end of May.
NOTE…Even the mayor payed a visit!
february 2018 report (Twila tate)
We have had several work days in the garden and one planning session for Youth Gardening. Carolyn Sander, Joy Kenjura, Debi Meschwitz, and I (Twila Tate) have been there on one or more Thursdays, clearing away frozen and dead things. When we were trimming Roses on the fence, we discovered that one post has fallen, and there are replacements and repairs needed. We have gotten a load of rocks delivered for a future project. These were donated by Leroy Schroeder, Inc. We had and indoor gardening day planting seeds with our fourth graders.
A reclamation and recycling program was presented by member, Joy Kenjura, on January 25, 2018.
Helping students plant seeds that will later be transplanted into the Butterfly Garden.
Joy Kenjura presenting Reclamation and Recycling program.
OCTOBER 2017 REPORT
Twila's Report:
We had good sessions last month with students as reported earlier. Even the Superintendent visited. We have worked in the garden most Thursdays with Charlotte, Carolyn, Debi Meschwitz, Debbie Urquhart, Joy, Poo, and Jeri Baehren. We have sessions with students this Thursday and Friday from 8 until about 10. We will be planting a small permission tree to replace one, a Texas Mountain Laurel, and some bulbs, along with enjoying the butterflies and the garden. We will also do more mulching and replacing signs. Members who have agreed to be there Thursday are Debi M., Charlotte, Poo, and Carolyn. Friday volunteers are Betsy S., Scottie, Linda, and Carolyn. Thanks to those ladies. We hope more may volunteer at today's meeting. Please wear your BGC name tag to the garden when the students are there. Charlotte and Joy have handled poster and poetry contests and may want to tell you about that. Diane Perez can tell you about scholarship applicants.

I have prepared Books of Evidence for awards for Butterfly, for Youth Horticulture Education, and Campus Clubs in Schools. I will send them this week.

We will work in the garden each Thursday of November, if weather permits, except Thanksgiving. I'll let you know about November student sessions as we finalize plans.
twila's september 2017 report
As we started the school year, we have met with the students three times already. We took breakfast to the fourth grade teachers and were joined by the Principal. They were very enthusiastic and we made plans to meet once a month with each class on the last Thursday and Friday of the month. This has to be somewhat flexible to meet school schedules.
Our first meeting was three classes on August 31 and three classes on September 1. At our first meeting with students, we talked about the year and let them explore the garden with a nature hunt. Our team for those sessions consisted of Debbie Urquhart, Joy Kenjura, Charlotte LaRoche, Rhonda Ehlert, Carolyn Sander, Jeri Baehren Merlene Schumacher, Sandy Batt, Debi Meschwitz, Joy Goedecke, Nancy Low, and me.
Joy Goedeke and I met with all the classes to briefly another day to explain the Poetry and Poster Contests. Joy and Charlotte LaRoche are handling that this year.
On September 26th we met with three fourth grade classes and Thursday (September 28) we will meet with the other three classes. We helped the students plant cool weather annuals and spread mulch. Each group placed a pumpkin in the garden for a little fall color. Carolyn Sander is leading these two sessions and the helpers Tuesday were Scottie Davis, Debi Meschwitz and me. Carolyn will be there tomorrow, joined by Poo Michalak, Joy Kenjura, and Charlotte LaRoche. We hope we may get a few more of you to volunteer today. All the plants were donated by Plants 'n Things, and mulch was donated and delivered by City of Brenham. Think about doing business with Plants 'n Things and all the businesses who have donated to us.
Those assigned to work in October are LaRoche, McDaniel, and Perez. Remember that if you cannot help any time during the month, you are to trade with someone. There were some who did not do that in September, so you have a few more days! If the "work day" doesn't suit you, check with us on what else you can do or when you can come. Our scheduled days to work with students in October are October 26 and 27. If anyone would like to volunteer to work then, let me know. You know the four people assigned to a month are not really enough on the days students are in the garden, even if they all come those days, and the regulars cannot all me there everytime.
Diane, I think is planning to work on Scholarship again. Do you have anything to report?
I have registered the Youth Gardening Club and will be doing reports next month for District.
Twila Tate, Youth Gardening Chairman
Twila also wishes to thank Suzette Moser for helping in September and Ryan Janner of Yard Depot for his donations to our Butterfly Garden!
2017-2018 School year begins
The school year has just begun but a few of our members have been working all summer to get the butterfly garden ready for the Junior Garden Club to enjoy, The Butterfly Garden is also open for others to enjoy as well. I can't name them all, but many thanks to those of you who worked through the summer or who donated to our fund to have some of the hot and heavy work done for us. This garden takes much time and energy to keep it in pristine shape and it IS that! Go take a look if you haven't been by in a while. It's beautiful.
Some of our members, led by the Chairman of Youth Gardening, Twila Tate, met with the students August 31st and September 1st. This was an opportunity to tell them about our plans for the year, and let them explore the garden with a Nature Hunt Sheet. The children always enjoy this activity. Personally, I was surprised at just how much they DO know. They are all so anxious to learn more and also to explore the garden. One young girl asked if they could come back next week. This tells us that we are doing the right thing!
Also happening in September...Twila Tate and Joy Goedeke talked to all of the Fourth graders at Brenham Elementary School recently about the upcoming poetry and poster contest. Hoping for many entries!
Club members will work with the students planting, mulching, and learning about gardening on Thursday, September 28, and Friday, September 29. If you are assigned to September, please be there or get a sub to take your place. You will find the schedule under "Members Only" on this website or check the back of your yearbook. Anyone who is not assigned to September is also welcome to participate as during these two days, ALL of the fourth graders will be out participating in this activity and it's nice to have one member for every couple of students in order to really show them what to do and teach them about the garden. Remember, these students are new to the garden and need instruction. Thank you all for your help with this.
RECOGNITION
Our club was honored to be presented two large monetary awards for SCR and Youth Butterfly Projects which was Director, Barbara Baker's term project - "Butterflies are Golden. Here is the writeup in the June, 2017 Communicator.
"Bluebonnet Garden Club began working with seven 4th grade classes "Brenham Elementary Gardeners" in the Fall of 2002. Initially a Backyard Habitat the members and students added and continue to maintain a large Butterfly Garden and Outdoor Learning Center at the school. In addition, on STEM night students and parents enjoy a scavenger hunt and walk in the Butterfly Garden; on Family Science nights the entire family is welcome to come and explore; the Center is used on outdoor community days and also when students from other schools are brought to the Learning Center. "Weekly Weeders" are aided by students and some PTO mothers in maintaining the garden year round."
youth gardening awards day - And time in the garden too
The Fourth Graders always look forward to Youth Gardening Awards Day. Even if they didn't win, they are served Blue Bell Ice Cream...WIN! Below are a few pictures of the children with their awards, and the club members who participated. On another day in May, the children spent some time in the garden.
Gazebo Refurbished!
Thank you, thank you to Jeri and Axel Baehren for their work resealing all of the wood and supervising some of the fourth graders in repainting the panels on the benches inside the gazebo. The children love to come out to the garden and especially the gazebo which certainly provides a respite from the sun and heat of the day. The gazebo looks fresh, colorful and new once again!
Thank you to the core gardening crew
There are a few club members who are totally dedicated to our Butterfly Garden and we need to recognize them. They are the members who show up week after week to weed, rake, procure FREE plants, plant, and entertain children in the garden when it is requested. They are our core gardening crew and without them, we would have just a bunch of weeds instead of the beauty we see. This is not just about a love of gardening but also a love of teaching the children about gardening and how important it is! Some of these children may have never gotten their hands in the dirt to plant anything.
So, thank you to each one who has willingly shown up if merely to give moral support when you couldn't garden or donated money for buying supplies or maintenance. It is often backbreaking work and some of us are not as able as others...age not being a factor here, just a fact! Below is a picture of a few of the crew. If you have been in the garden as a regular, please let us know so that we can mention you as well.
From L-R: Joy Kenjura, Charlotte LaRoche, Debbie Urquhart, Twila Tate, Carolyn Sander, Joy Goedeke
March in the Butterfly Garden
March is a big "cleanup" month in the garden, but it really looks great considering the sudden freeze we had this winter. Here are a few pictures taken by the Butterfly Garden Caretaker Extraordinaire...Twila Tate! Thank you for all you do, Twila!
NOVEMBER IN THE BUTTERFLY GARDEN
TWILA'S GARDENING REPORT:
We met with our Junior Garden Club at Brenham Elementary School on October 20, the day after our last meeting. All seven classes came and planted cool weather annuals and explored in the garden. It was a pleasant day with lots of butterflies. A dragonfly eating one of the butterflies was a big hit. Joy Kenjura, Debbie Urquhart, Scottie Davis, Carolyn Sander, Rhonda Ehlert, Jeri Baehren and I worked with the students.
Others who have been putting in time with the youth are Merlene Schumacher and Sherry Barkman, who judged and sent off posters to the poster contest. Raymond Kenjura has been weedeating and overseeing the garden. I think our regular Weekly Weeders and Sarah Painter have done weekly maintenance on Thursdays. I sent reports to District for the following awards: Butterfly, Campus Clubs in Schools, and Youth Horticulture.
We are working with students again November 17th. We will start about 9am and have students until 11:30. Then, start again at 1pm. I am asking now for volunteers to help either in the morning, afternoon, or both. This is a garden club project, and we really do need some helpers when the students are in the garden to make it a good experience.
We will probably do minimum maintenance through December. In January, we will do a recycling and reclamation program. This only takes a couple of people. We will probably be inside. Is there anyone who is not able to garden, who would like to do that?
In February we plan to try a rock painting project, especially if the weather is disagreeable. Think about whether that might be something you would like to supervise.
Ryan Janner of Yard Depot did some maintenance for us and donated his time and materials.
October in the Butterfly Garden
A New Year at the Butterfly Garden
Several of the faithful showed up to spruce up the Butterfly Garden on Thursday, September 8th, to get the garden ready for the Fourth Graders to come out and enjoy their first day in the garden for this school year. Thank you to Debi Meschwitz, Carolyn Sander, Joy Kenjura, Wendy Smith (BES PTO member) and of course our wonderful chairperson, Twila Tate. The garden looks fabulous because of your consistent hard work!
Youth Gardening at Brenham Elementary school in the Butterfly Garden is always exciting. September 13th was the kickoff day for the beginning of the school year with the kids. They divided into small groups, had a great time with a nature hunt and explored the garden AND Chairman, Merlene Schumacher, gave them information about the Woodsey Owl and Smokey Bear contests. As each of the seven classes came to the Gazebo, we introduced the concept of being a member of a youth garden Club. They have been registered with TGC. We did a Youth Gardening Pledge and talked about what we would be doing for the year.
Chairman, Twila Tate, reports that work will continue in the garden on Thursday mornings, weather permitting, but not the morning of our fall pilgrimage. We always welcome members to help us with the maintenance and with the students.
Our next two sessions with the students are planned for October 20th and November 10th. We will be working with students most of the school day on those dates. Thanks to all of you who help make the Butterfly Garden such a special place for kids!
We had several classes out on Thursday and continued with the rest on Friday. It was great to be with these curious youngsters! Those helping were: Sandy Batt, Jeri Baehren (a former garden club member), Rhonda Ehlert, Joy Kenjura, Debi Meschwitz, Sarah Painter, Carolyn Sander, Merlene Schumacher and Twila Tate.
Youth Gardening Awards
NEWS RELEASE
Brenham Elementary Gardeners, a junior garden club made up of all fourth graders at Brenham Elementary School concluded their school year with an exciting day. Bluebonnet Garden Club sponsors this club and works with the students throughout the year attempting to teach them about gardening and conserving our natural resources. Bluebonnet Garden Club along with Brenham Elementary Gardeners established andmaintains a Butterfly Garden as part of the Outdoor Learning Center adjacent to the school campus.
For their last meeting, students were treated to Blue Bell Ice Cream cups on the playground. Then awards were presented for National Forestry Poster and Environmental Poetry contest winners. Winners received certificates and cash awards.
Poetry Contest winners at District IV of Texas Garden Clubs were: First Place--Paige Janner, Second place – Cassidy Nowicki, Third Place--Ryder Lampe, Honorable Mention--Paige Janner.
National Forestry Poster contest winners at District IV for Woodsy Owl Poster Contest: First Place--Leslie Guzman; Second Place--Belinda Prieto; Smokey Bear Poster Contest: First Place--Kennedy Tilley, Second Place--Ryder Lampe, Third Place--Amelia Marik.
At the State Convention, Leslie Guzman won first place in the Woodsy Owl Poster Contest and Kennedy Tilley received Honorable Mention for her Smokey Bear.
In the Poetry Contest, Paige Janner won first place, Chasidy Nowicki won second place, Ryder Lampe won Third Place and Honorable Mentions went to Jayde Powell.
Pictured are L – R: Leslie Guzman, Kennedy Tilley, Twila Tate representing Bluebonnet Garden Club, Amelia Marek, Jayde Powell, Chasidy Nowicki, Paige Janner.
MAY GARDENERS
In addition to regular Thursdays in the Butterfly Garden, some club members came out to the garden on two separate days to work with the Brenham Elementary School fourth grade gardeners. All had a wonderful time planting plants and seeds, mulching, and also having a walk around the garden to see what what blooming. Here are a few pictures from those two fun days!
APRIL GARDENERS
TWILA'S BUTTERFLY GARDEN REPORT:
In addition to our usual Youth Gardening committee, Judy Pendergrass, Joy Goedeke, Jeri Baehren, Wendy Smith (PTO), Linda Blum, and Sandy Batt have come to the garden to do maintenance in the heat. We do appreciate all of you who have spent time in the garden, and those who have donated items like the Garden Flag from Freda. Several have also given major donations in lieu of working lately, but I think they asked not to be acknowledged. Other activities in April included planting a tree in the garden and STEM night.
Students and parents enjoy a scavenger hunt and walk in the Butterfly Garden during STEM night at the school while garden club members give them instructions and show them around the garden. It was a beautiful evening! (*Permission given for photos of children shown)
MARCH GARDENERS
As reported by Twila Tate, " On Thursday BGC members Carolyn Sander, Scottie Davis, Debbie Urquhart, Ann Lehmann, Linda Blum and Twila Tate were joined by Brenham Elementary PTO members, Thor and Wendy Davis, in the Garden. We did some maintenance and planted a few plants. Friday morning, Debi Meschwitz and Joy Goedecke worked in the garden. It has felt the effects of the freeze, but looks well-maintained."
November Gardeners
Thank you, Wendy Smith of Brenham Elementary PTO for helping in the garden this month! What a great surprise to have you show up and help our other gardeners of the month, a few of whom are Debbie Urquhart, Shannon Webb and Donna Bennett. Thanks to others who have also helped this month but were not in this picture...Judy Pendergrass and Joy Goedeke, who purchased and planted daffodil bulbs last week.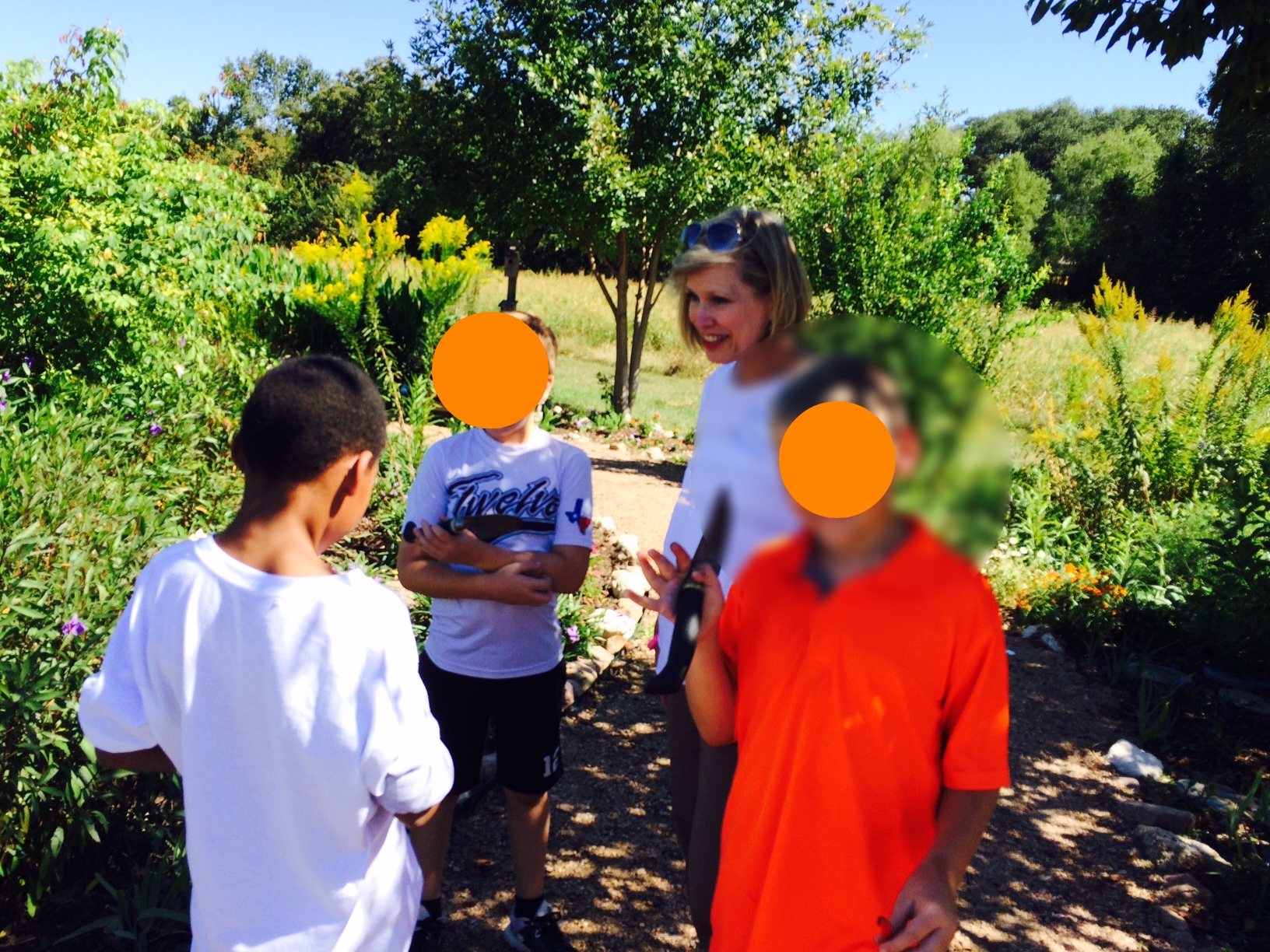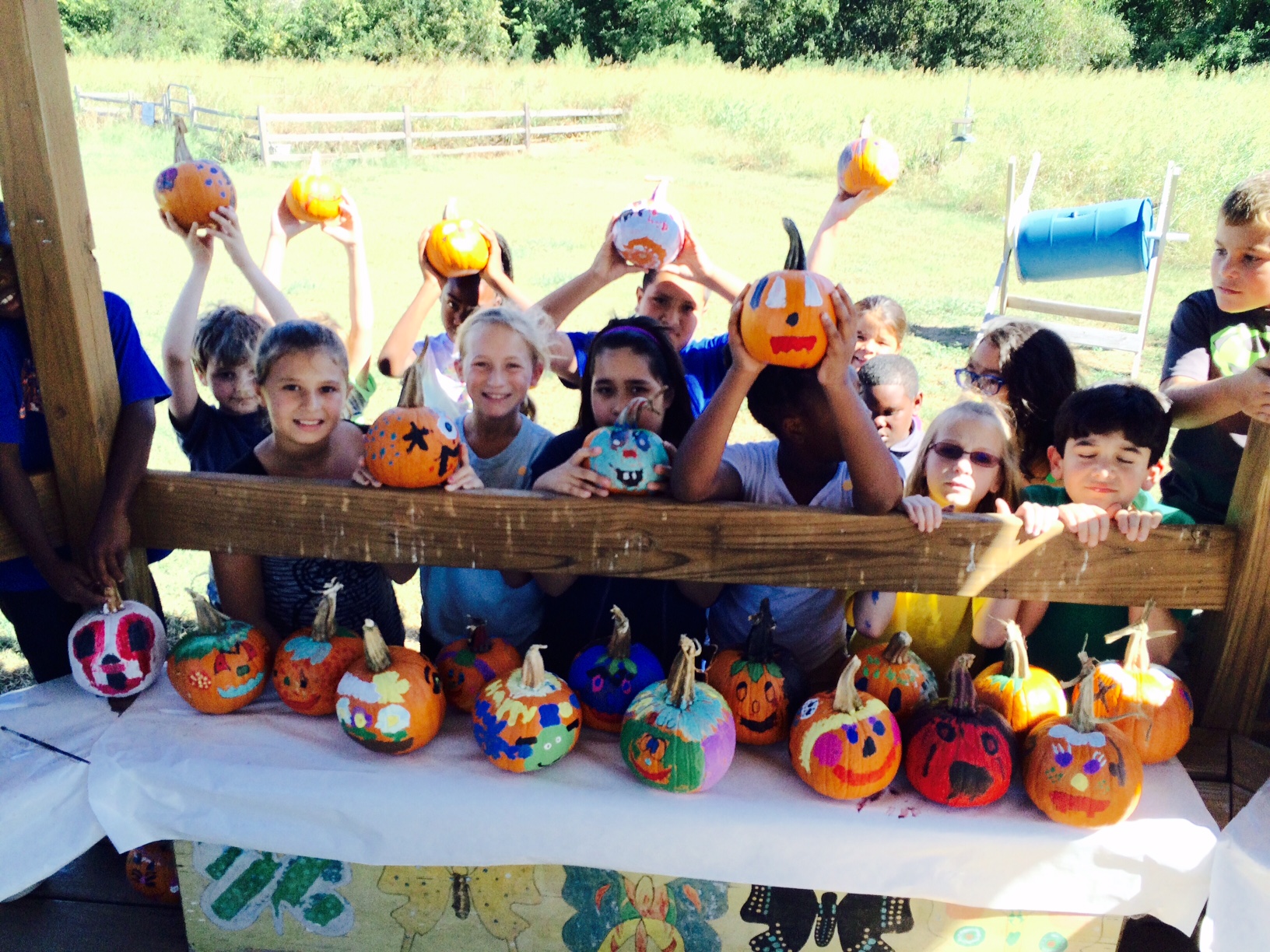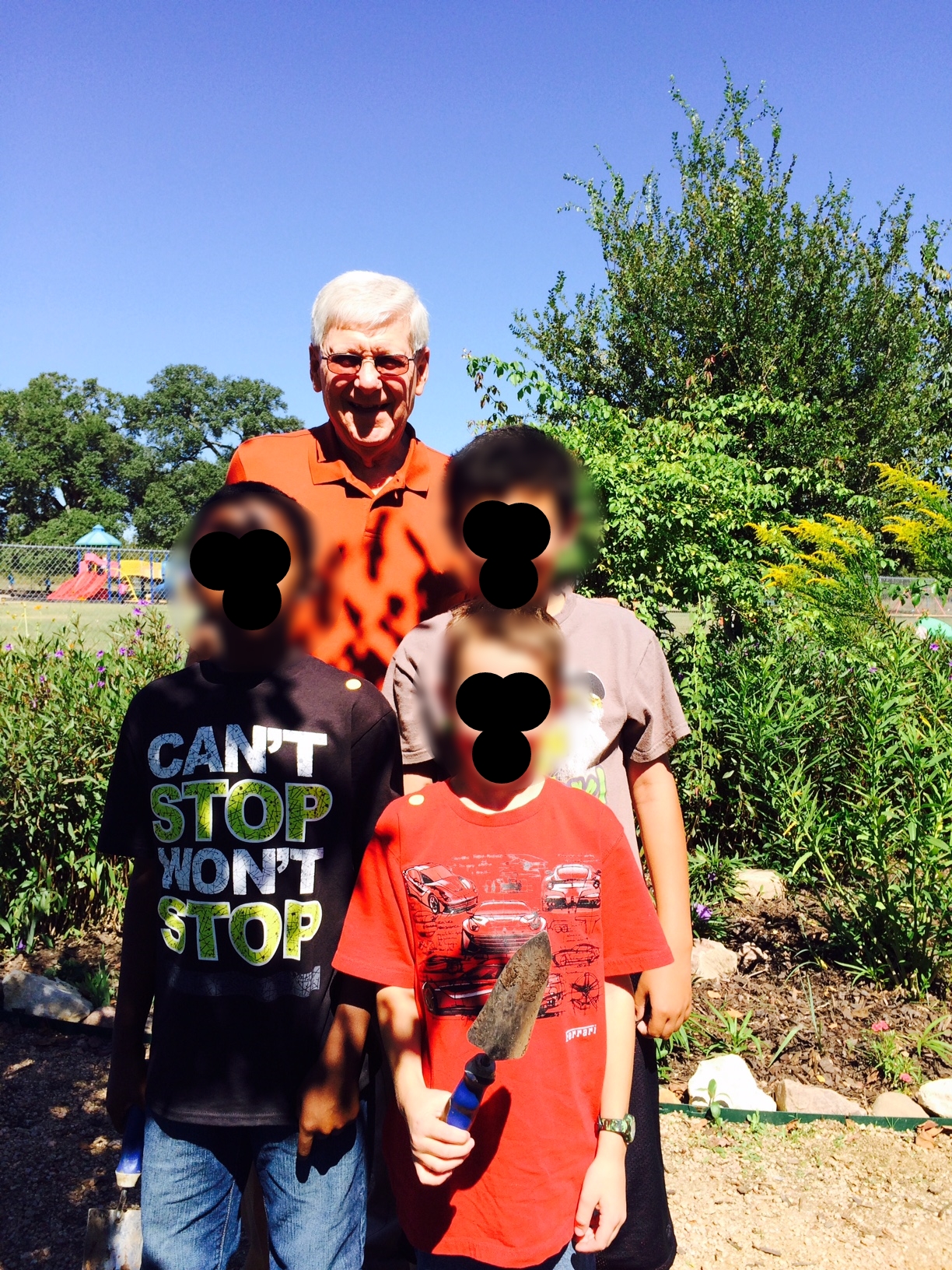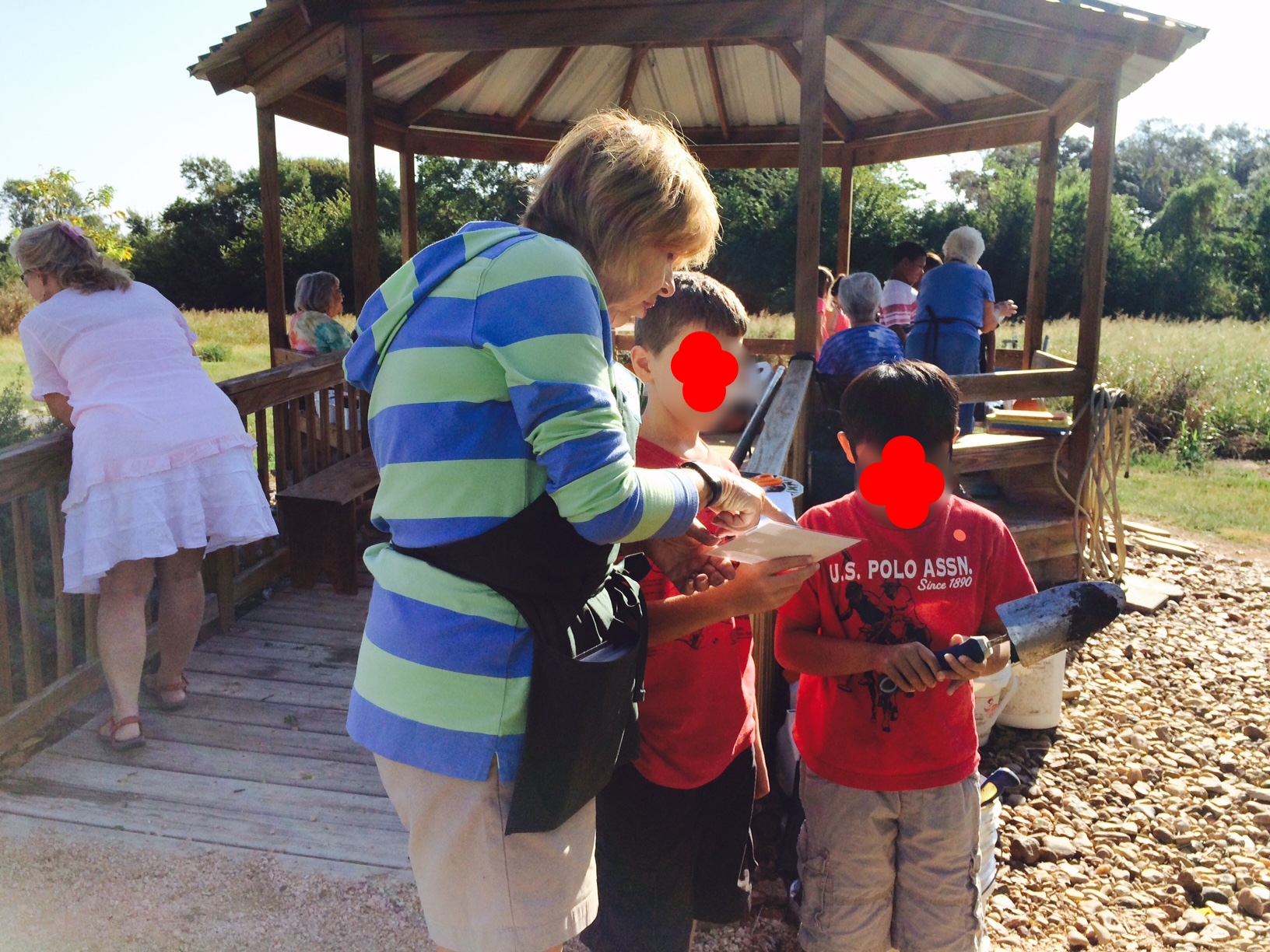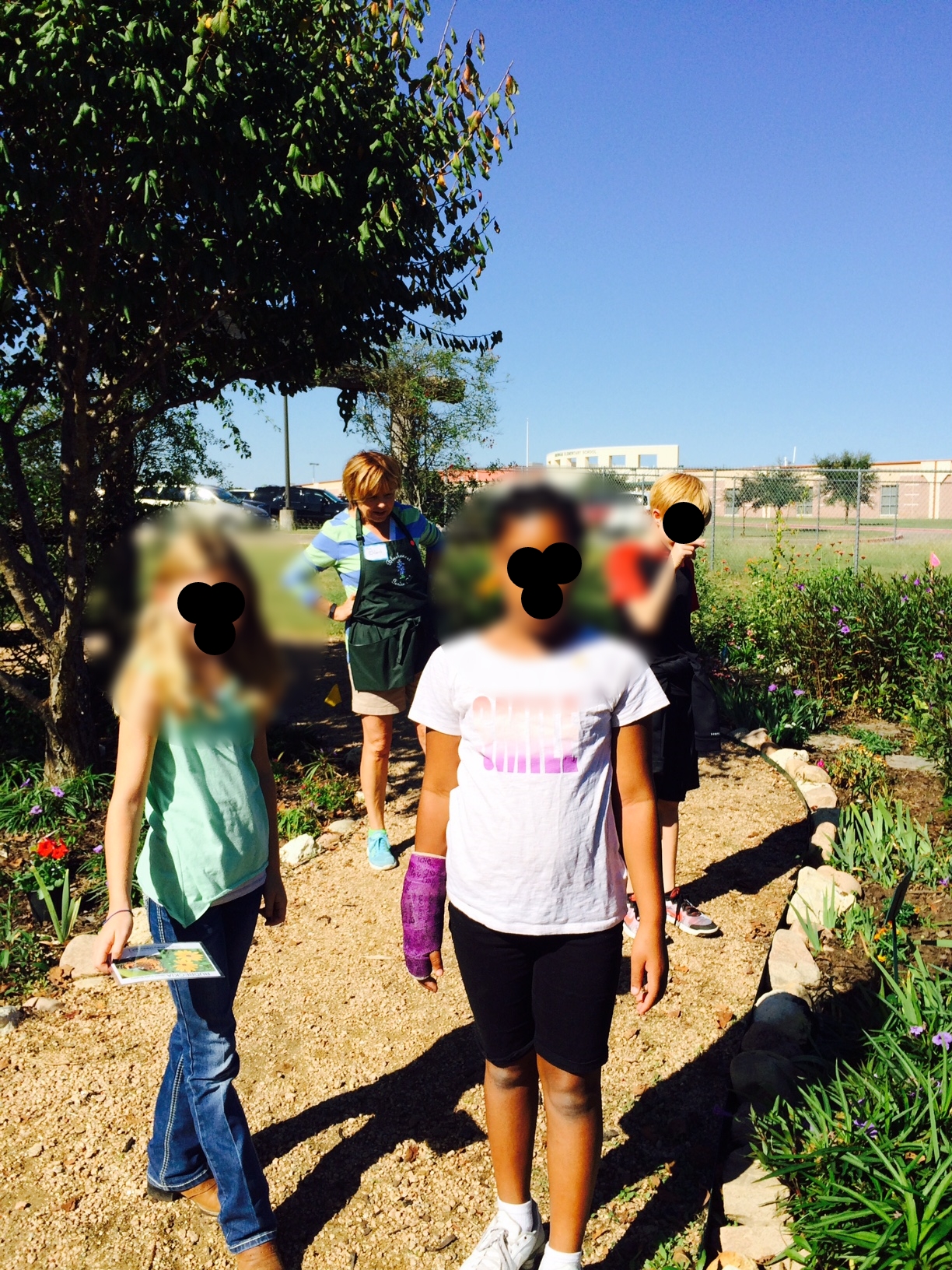 October in the Butterfly Garden
A walk in the Butterfly Garden never disappoints. There is always a surprise...a beautiful butterfly, a caterpillar or just beautiful blooms everywhere. Thank you to all who are so dedicated to keeping the garden in such pristine condition. It brings much joy to the children and many others. Notice the before picture of our sign. Thanks, Axel!
Butterfly Garden Presented with 1st Place National Garden Club Award
Summertime in the Butterfly garden
Our local paper, The Brenham Banner Press, caught Carolyn Sander just doing what she does...keeping the Butterfly Garden alive and in pristine condition. Other regulars at the garden are Twila Tate, Debbie Urquhart, Scottie Davis and Joy Kenjura. Often seen helping out are a couple of the husbands, Raymond Kenjura and Charles Sander, as well as former member, Jeri Baehren. They are ALL "garden angels"!
Family Science Night at Brenham Elementary
Twila Tate, Chairman of Youth Gardening reports:
Below are a few pictures from our station in the Butterfly Garden for the Family Science night at Brenham Elementary. We had a nice group of families to come through and explore. A big thank you to Carolyn Sander, Scottie Davis, Linda Blum, Judy Pendergras, Sherry Barkman, Missy Peck and I probably forgot someone!
Our dedicated Butterfly Gardeners are at it again!! Cool gardening in February.
Debbie Urquhart, Carolyn Sander, Twila Tate, Scottie Davis
Garden Club members Joy Kenjura, Carolyn Sander, Scottie Davis, and Twila Tate along with Charles Sander, Raymond Kenjura, and Jeri Baehren spent the morning trimming away frozen plants and generally doing cleanup in the garden. It looked so much better, we thought we should have done before and after pictures. We also presented Raymond Kenjura with a "thank you" poster for getting a donation of bedding plants for the garden from Lowe's. Hope some of you can join us for a work day next Thursday (or whenever the weather is good on Thursdays.) Twila (Chairman, Youth Gardening)
Youth Gardening Committee Report
The Youth Gardening Committee has had a very busy week since our Orientation
Meeting last week, and I want to bring you up-to-date. I will also attach
at the end my report from the meeting, since some were not there and
everyone might not have read through it before. First of all, on Saturday
morning by 7:30 Scottie Davis, Carolyn Sander, Debbie Urquhart, Joy Kenjura,
and I joined by Raymond Kenjura, Charles Sander, and six other men finished
up on some weeding and spread more than a truck load of mulch on the garden
(lots of square yards, don't remember the exact number). Then today,
Wednesday, September 10, we had an orientation session with four fourth
grade classes. We have three more classes coming tomorrow. The garden is
looking lovely, and there are lots of butterflies enjoying it. Larry
Urquhart spent an hour and a half taking pictures in the garden yesterday.
We hope to share some of those pictures with you soon. I will send a few
pictures of the activities in another email. Please appreciate all the work
these ladies (and their husbands) are doing! Twila

YOUTH GARDENING REPORT
September 4, 2014
The following is a copy of an email from Patsy Andreas, the teacher
originally involved us with Youth Gardening at Brenham Elementary School.
It gives a brief history and background on what our club has meant to these
students:

Mrs. Baehren,
Our "gardening angels", the Bluebonnet Garden Club, began working with our
4th graders in the fall of 2002. What once began as a "Let's spruce up the
school yard and let the kids get their hands dirty" notion at the old BES
campus, soon developed into wonderful learning experiences each year for
our students. A very meager little butterfly garden had been started a year
earlier thanks to a mini-grant provided by BISD. When you ladies of the
Garden Club put your expertise, knowledge, time, sweat and guidance into the
garden, it became a true treasure for students and staff alike. The
Butterfly Garden on our current campus is a wonder to behold and It
continues to be a "walk with nature" for our students today.
More importantly, you ladies have helped our students gain an appreciation
and respect for living things and learn stewardship and pride in caring for
our environment.
We have been so blessed to have you, Mrs. Tate and the numerous other ladies
teaching our students lifelong skills to enable them to become better people
in the future. Thank you from the bottom of my heart :) Patsy

Youth Gardening has usually been a 100% participation project for our club.
The Youth Gardening Committee this past year consisted of Jeri Baehren (no
longer a garden club member), Joy Kenjura, Carolyn Sander, Debbie Urquhart,
and myself. With the help of members who are willing and able, we
established the Butterfly Garden at Brenham Elementary and maintain it.
This means all summer long we have been going to weed and do maintenance
almost every Thursday morning.
We were the first garden approved for an Outdoor Learning Center/Nature
Trail. Each year all of the fourth graders become members of a junior
garden club registered with NGC. We work with all seven classes helping
them with hands-on gardening, discussion, and observation of caterpillars,
butterflies and nature in general. The junior garden club helps us plant and
maintain the garden and learns about butterflies through observation and
hands on gardening. In addition, we work with other groups as part of the
Outdoor Learning Center on community days and days when students from other
schools are brought to the school for an outdoor day. We have already had a
breakfast for the fourth grade teachers and made plans for this school year.
We will have our first meeting with the students next Wednesday and Thursday
morning.
All of the members of Bluebonnet Garden Club are asked to give some time to
maintaining the Butterfly Garden if they are physically able. For others,
we have other ways you can help. The schedule to work is in the new
yearbook. If you can't help during that month, find someone who will trade
with you. Missy Peck will be working on the Poetry and Poster contests,
Rhonda Ehlert is working on the High School Essay Contest, and Diane Perez
is working on the NGC Scholarship applications. Talk with the Youth
Gardening Committee members about the best way to help us.
The Butterfly Garden is beautiful now, and we hope all of you will come
admire it. You are welcome to visit the garden and/or come help us anytime.
Lastly, we want new members to know that we received second place for our
school garden project from National Garden Clubs last year. We hope to get
first place this year.
Twila Tate, Youth Gardening Committee
Saturday, September 6, 2014, saw a few dedicated garden club members in the Butterfly Garden. They kept busy weeding and unloading and spreading LOTS of mulch! Thank you to each of you!
The fourth graders came out to see the freshly weeded and mulched garden!
Brenham Elementary Gardeners, a junior club made up of all fourth graders at Brenham Elementary School concluded their school year with an exciting day. Bluebonnet Garden Club sponsors this club and works with the students throughout the year attempting to teach them about gardening and conserving our natural resources. Bluebonnet Garden Club along with Brenham Elementary Gardeners established and maintains a Butterfly Garden as part of the Outdoor Learning Center adjacent to the school campus.
For their last meeting, students were treated to cups of Blue Bell Ice Cream. and awards were presented for National Forestry Poster and Poetry contest winners. Winners received certificates and cash awards.
Poetry Contest winners at District IV of Texas Garden Clubs were: First place, Alexa Villereal; Second place, Isreal Molina; Third place, Aubri Smith; and Fourth place, Trinity hart.
National Forestry Poster contest winners at District IV were: First place, Christin Lee; Second place, Joanna Aguilar; and Third place, Joseph Medrano.
National Garden Clubs, Inc. has presented two Certificates of Achievement to Brenham's Bluebonnet Garden Club and to Brenham Elementary School. A Certificate of Participation in the 2013-2014 School Gardens Project was awarded to Brenham Elementary School for allowing the Bluebonnet Garden Club to sponsor a school garden along with a Junior Garden Club on the campus. The project won Second Place in the National Garden Club's School Garden Contest. The second Award Certificate was awarded to Bluebonnet Garden Club as the "Second Place" winner in the School Gardens Project. This was accompanied by a cash award which will be used in the Butterfly Garden sponsored by the club.